Simon Hix
Room CON.3.07
Government Department
LSE, Houghton Street
London, WC2A 2AE, UK
Tel: +44 (0) 20 7955 7657
E-mail: s.hix@lse.ac.uk


Simon Hix

Harold Laski Professor of Political Science, Department of Government, London School of Economics and Political Science
Academic Director, LSE Institute of Public Affairs
Fellow of the British Academy, and Fellow of the Royal Society of Arts

My main areas of research and teaching are comparative democratic institutions, especially voting in parliaments and electoral system design, and elections and decision-making in European Union politics
I teach at all levels at LSE: from first year undergraduates, to one-year MSc students, 2-year MPA students, PhD students, and on or executive MPA/MPP and TRIUM programmes
For more details, here is my CV
Follow me on Twitter
Here's my Google Scholar entry
Books / Research / Websites & Datasets / Public Engagement / PhD Students

---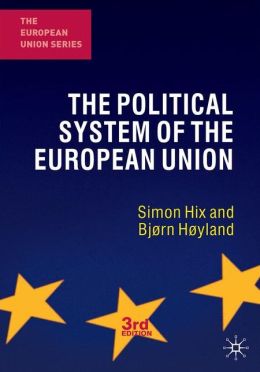 Simon Hix and Bjorn Hoyland (2011) The Political System of the European Union, 3rd edn, Palgrave.




Simon Hix (2008) What's Wrong With the European Union and How to Fix It, Polity.




Simon Hix, Abdul Noury and Gerard Roland (2007) Democratic Politics in the European Parliament, Cambridge University Press. This book won the Richard F. Fenno Jr. Prize for the best book on legislative studies published in 2007, from the Legislative Studies Section of the American Political Science Association.

---
Giacomo Benedetto and Simon Hix, 'The Rise and Fall of Social Democracy, 1918 to 2017', Working Paper.

Thomas Dńubler and Simon Hix (2017) 'Ballot Structure, List Flexibility and Policy Representation', Journal of European Public Policy, forthcoming. Replication data
Bj°rn H°yland, Sara B. Hobolt and Simon Hix (2017) 'Career Ambitions and Legislative Participation: The Moderating Effect of Electoral Institutions', British Journal of Political Science, forthcoming.

Richard Whitaker, Simon Hix and Galina Zapryanova (2017) 'Understanding MEPs: Four Waves of the European Parliament Research Group MEP Survey', European Union Politics, forthcoming.

Jack Blumenau, Andrew C. Eggers, Dominik Hangartner and Simon Hix (2017) 'Open/Closed List and Party Choice: Experimental Evidence from the UK', British Journal of Political Science, forthcoming.

Simon Hix, Rafael Hortala-Valve and Guillem Riambau-Armet (2017) The Effects of District Magnitude on Voting Behavior', Journal of Politics 79(1) 356-361.

Simon Hix (2016) 'Does the UK Have Influence in the EU Legislative Process?', Political Quarterly 87(2) 200-208.

Simon Hix and Abdul Noury, (2015) 'Government-Opposition or Left-Right? The Institutional Determinants of Voting in
Legislatures', Political Science Research and Methods 4(2) 249-273.

Christophe Crombez and Simon Hix (2015) 'Legislative Activity and Gridlock in the European Union', British Journal of Political
Science 45(3) 477-499.

Mala Htun, G. Bingham Powell, John Carey, Karen E. Ferree, Simon Hix, Mona Lena Krook, Robert G. Moser, Shaheen Mozaffar, Andrew Rehfeld, Andrew Reynolds, Ethan Scheiner, Melissa Schwartzberg and Matthew S. Shugart (2013) 'Between Science and Engineering: Reflections on the APSA Presidential Task Force on Political Science, Electoral Rules, and Democratic Governance', Perspectives on Politics,11(3) 808-840.

---
www.VoteWatch.eu. Tracking voting in the European Parliament and the EU Council.

Electoral system design data (John Carey and Simon Hix)
European Parliament roll-call voting data (Simon Hix, Abdul Noury and Gerard Roland)
European Parliament Research Group (EPRG) MEP survey data (David Farrell, Simon Hix, Roger Scully and Rick Whitaker)
---
The Case for a Softer Brexit, The Times, 26 June 2017
LSE Students' Views on Diversity on Campus (w/ John Carey, Katie Clayton & Yusaku Horiuchi), LSE Equality, Diversity and Inclusion blog, 20 June 2017
UK Voters, Including Leavers, Care More About Reducing Non-EU Than EU Migration (w/ Eric Kaufmann & Thomas Leeper), LSE British Politics and Policy Blog, 30 May 2017
What Would a Pro-European Hard Brexit Look Like?, LSE Brexit Blog, 6 April 2017
Can 'Global Britain' Forge a Better Trade Deal with South Korea? This is Why it's Unlikely (w/ Hae-Won Jun), LSE Brexit Blog, 7 Feb 2017
Do MEPs Want to Keep 'Schlepping' to Strasbourg? How Travel Time Influences Views on the Location of the European Parliament (w/ Richard Whitaker), LSE EUROPP blog, 7 November 2016
No More Denial: Let's Accept the Inevitable and Fight for the Best Brexit We Can, LSE Brexit blog, 14 July 2016

Slides to my lecture on After the EU Referendum: What Next for Britain and Europe? 29 June 2016

Brexit Britain: could the Canada-US relationship be a model for the UK and the EU?, LSE Brexit blog, 29 June 2016
Is the EU really run by unelected bureaucrats?, LSE EUROPP Blog, 21 June 2016
Choose Freedom: 28 Countries, 500m People and One of the Most Successful Liberalising Projects in History, LSE Brexit blog, 10 Jun 16
LSE HotSeat interview on the EU referendum, 17 May 2016
What would the European Parliament look like after Brexit?, ESRC UK in a Changing Europe website, 12 May 2016
Evidence to the House of Commons European Scrutiny Committee on Transparency in EU Decision-Making, 20 April 2016
Brexit or not, Britain's already isolated in Brussels, Politico Europe, 19 April 2016
Explainer: The European Parliament, ESRC UK in a Changing Europe website, 8 March 2016
LSE HotSeat inteview on the Britain, Europe and the EU Referendum, 23 February 2016
Introducing Cameron's EU red card will have limited impact (w/ Sara Hagemann & Chris Hanretty), Guardian Datablog, 10 Feb 2016
Do UK MEPs get key positions of power in Europe? (w/ Giacomo Benedetto), Guardian Datablog, 4 February 2016

The policy successes (and failures) of British MEPs, LSE EUROPP blog, 12 January 2016
How often do UK MEPs get their way?, Guardian Datablog, 17 December 2015
Evidence to House of Lords EU Select Committee on EU reform inquiry, 24 November 2015
Is the UK at the top table in EU negotiations?, LSE EUROPP blog, 16 November 2015
Evidence to House of Commons European Scrutiny Committee on UK's renegotiation of EU membership, 2 November 2015
Is the UK a winner or loser in the EU Council? (w/ Sara Hagemann), Guardian Datablog, 2 November 2015
Cameron, Corbyn and Farage: How might they affect the EU referendum? (w/ Matthew Goodwin & Mark Pickup), ESRC UK in a Changing Europe blog, 21 October 2015
Is the UK marginalised in the EU?, Guardian Datablog, 19 October 2015

Inaugural Lecture as Harold Laski Chair, The Future of Britain in Europe, 30 September 2015

LSE HotSeat interview on Implications of the Scottish Referendum for Scotland and the UK, 24 September 2014
How the European Media Drives Different Views of European Integration (w/ Stuart Wilks-Heeg), Washington Post blog, 9 June 2014
LSE HotSeat inteview on the Outcome of the 2014 European Parliament Elections, 30 May 2014
LSE HotSeat interview on Merkel's Visit to London and UK-EU Relations, 11 March 2014
Letter to The Economist on the battle for Commission President in 2014, 20 February 2014
If the European Parliament voting system were changed to an open-list system, many voters would switch their support from UKIP to the Conservative party (w/ Jack Blumenau, Andy Eggers & Dominik Hangartner), LSE EUROPP blog, 27 July 2013
Designing a new UK-EU relationship and how it could be achieved (w/ Damian Chalmers & Sara Hobolt), LSE EUROPP blog, 12 Jun 13
The European Parliament elections in 2014 are about more than protest vote (w/ Christophe Crombez), Guardian blog, 3 June 2013
Why the 2014 European Parliament elections will be about more than protest votes (w/ Christophe Crombez), LSE EUROPP blog, 3 June 2013
UK stands alone in Europe's third tier, letter in The Financial Times, 21 May 2013
Can't decide now on a relationship that is still in flux, letter in The Financial Times on EU referendum, 15 May 2013
Why the European Parliament should not be abolished, LSE EUROPP blog, 5 March 2012
Letter in The Guardian on Jack Straw's call for abolishing of the European Parliament, 24 February 2012
David Cameron's speech was about as pro-European as can be expected of a British Conservative Prime Minister in the current context, LSE EUROPP blog, 26 January 2013
Written Evidence to the European Scrutiny Committee in the House of Commons on Possibilities for Reinforcing the Eurozone, 4 January 2012
David Cameron's EU treaty veto is a disaster for Britain, LSE British Politics and Policy blog, 9 December 2011
Written Evidence to the Joint Committee of the Commons and Lords on the Draft House of Lords Reform Bill (w/ Iain McLean), 23 September 2011
The rights and wrongs of AV, letter in The Evening Standard on electoral reform in the UK, 1 April 2011
Time to catch up with reality, letter in The Financial Times on electoral reform in the UK, 28 February 2011
TV Interview on Launch of VoteWatch report on "Voting in the European Parliament Post-Lisbon", 26 January 2011
Written Evidence to the European Scrutiny Committee in the House of Commons on the Draft European Union Bill, 8 Dec 2010
Electoral Reform: A Vote for Change? (w/ Ron Johnston & Iain McLean), in Political Insight, vol. 1(2), September 2010
The State of European Democracy After Lisbon, video of talk at the IIEA, Dublin, 26 May 2010
Putting the question of electoral reform in proportion, letter in The Guardian on electoral reform in the UK, 28 April 2010
MEPs defend their voting records, BBC The Record: Europe interview on VoteWatch.eu annual report, 24 February 2010
Recognition at last for Political Science, letter in The Financial Times on the Nobel Prize for Elinor Ostrom, 15 October 2009
EU is Flawed, But it Can be Fixed, article in The Daily Telegraph, 28 September 2009
BBC The Record: Europe discussion about the outcome of the 2009 European Parliament elections, 12 June 2009
BBC interview about www.VoteWatch.eu website, 16 May 2009
Written Evidence to the European Union Committee of the House of Lords on the Implications of Codecision for National Parliamentary Scrutiny, 12 May 2009
Viewpoint: A truly European vote?, BBC Website, 5 May 2009
Written Evidence to the European Union Committee of the House of Lords on the Impact of the Reform Treaty on the Institutions of the EU, 27 November 2007
---
Current PhD students
Diane Bolet, Research interests: electoral support for populist parties in Europe
Robert van Geffen, Research interests: careers of MEPs

Former PhD students

David Bailey, Senior Lecturer, University of Birmingham
Giacomo Benedetto, Senior Lecturer in Politics and Jean Monnet Chair, Royal Holloway, University of London
Gabriele Birnberg, Senior Manager, KPMG, London
Jack Blumenau, Lecturer in Political Science and Quantitative Research Methods, University College London
Kenneth Bunker, Consultant, Santiago, Chile
Lila Caballero-Sosa, Policy Advisor, ActionAid, London
Ignazio De Ferrari, Consultant, Lima, Peru
Jan-Emmanuel De Neve, Assistant Professor of Economics and Strategy, Sa´d Business School, University of Oxford
Jens Flanding, Adviser, Strategic Initiatives and Innovation, WHO, Washington, DC
Katjana Gattermann, Assistant Professor, Amsterdam School of Communication Research, University of Amsterdam
Achim Goerres, Professor of Empirical Political Science, University of Duisburg-Essen
Sara Hagemann, Assistant Professor in European Politics, European Institute, LSE
Cecile Hoareau, Senior Analyst, RAND Europe, Cambridge
Bjorn Hoyland, Professor, University of Oslo
Raya Kardasheva, Lecturer in European and International Studies, Kings College London
Kamilah Khatib, Senior Regulatory Impact Assessment Officer, Health Authority of Abu Dhabi
Nao Kodate, Lecturer in Social Policy, School of Applied Social Sciences, University College Dublin
Hendrik Kraetzschmar, Associate Professor in the Comparative Politics of the Middle East and North Africa, University of Leeds
Wang Leung Ting, Postdoctoral Fellow, Department of Government, LSE
Ting Luo, Postdoctoral Fellow, Leiden University
David Marshall, Lecturer in Politics and International Relations, University of Reading
Nicola Mastrorocco, Assistant Professor of Economics, Trinity College Dublin
Sarah McLaughlin, Policy and Communication Officer, European Commission, Brussels
Micheal O'Keeffe, Advisor to the Deputy Governor, European Central Bank, Frankfurt
Stephan Stetter, Professor of International Politics and Conflict Research, Bundeswehr University of Munich
Jessica Tarlov, Senior Director, Bustle Trends, New York
Ulrike Theuerkauf, Lecturer in Politics and International Development, University of East Anglia
Diego Varela Pedreira, Professor, University of La Coruna
Julia Pomares, Executive Director, CIPPEC, Buenos Aires
Nick Vivyan, Associate Professor, Durham University
Michael Wagemans, Managing Partner, i-propeller, Brussels
Markus Wagner, Associate Professor, University of Vienna
Andreas Warntjen, Assistant Professor of Political Science, University of Twente