Turnitin Essay Submission Instructions
Philosophy, Logic and Scientific Method, LSE
Please submit your summative essay online using the instructions below. After your essay has been marked, you'll be able to log back into Turnitin to view your score.
1. Preparing to submit.
Summative coursework is anonymously marked, and so your name should not appear anywhere on your submitted document. Please use your candidate number as the name of your document. You should also include a front sheet with only:
your candidate number;
the course code and name;
the submission date;
the word count of your essay; and
the title of your essay.
You can enter your real name when you register for a Turnitin account; this information will be made anonymous electronically.
Note that by enrolling in this course, you have agreed to maintain reliable access to internet technology. Technical problems are not an acceptable excuse for late submissions. You must submit your formative essay with enough time before the deadline to make sure it is correctly uploaded.
2. Login or Create an Account.
Login to submit.ac.uk. If you already have a Turnitin account from another course, you can login to that account to keep all your courses together. Otherwise, if this is your first time using Turnitin, just create a new account. You may use your real name.
3. Enter your class information.
Click the "Enroll in a class" button. You will need the Class/Section ID and Enrollment Password for your course, which is provided by your instructor. Enter this information into the box that looks like this: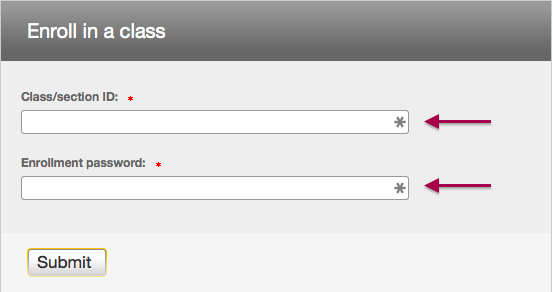 4. Submit your assignment.
Click your class, find the assignment that you wish to submit, then click the

(Submit) button and follow the instructions. You may have to change the "Cut and paste" tab to "Single file upload" in order to upload your paper: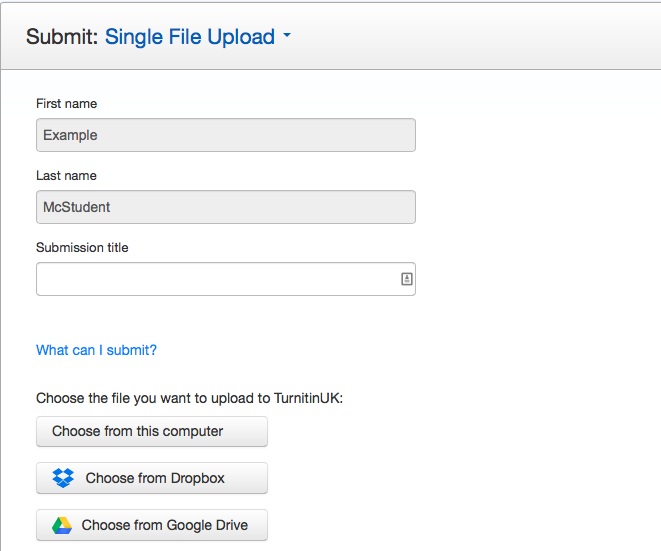 Once you have submitted your paper, you can check that it has been appropriately submitted by clicking the "View" button on the class homepage to see it.