"This book promises to alter the entire debate on decentralization and will certainly make a signal contribution to the field."

James Dunkerley, Queen Mary University of London

Decentralization is meant to deepen democracy, improve public services, and make government more accountable. But evidence from across the globe is contradictory. Is it all empty fashion? A giant mistake?

Jean-Paul Faguet uses the remarkable case of Bolivia to investigate reform over a generation. Public investment shifted dramatically towards primary services and resource distribution became far more equitable. Change was driven by Bolivia's smaller, poorer municipalities prioritizing their needs. Many municipalities responded to decentralization with transparent, accountable government, but others suffered ineptitude, corruption or both. Why?

Faguet combines broad econometric data with deep qualitative evidence to plumb the social underpinnings of governance. He shows how civic groups and firms interact to determine the quality of local decision-making. To understand decentralization, Faguet argues, we must understand governance from the ground up. He concludes with a discussion of the potential benefits of decentralization and recommendations for structuring successful reform. Find out more

¿Cuál es la relación entre las distintas oleadas de democratización y la histórica tensión entre centralización y descentralización del Estado en Bolivia? ¿Cómo ha condicionado esta interacción la construcción del Estado y su relación con la idea de nación? Son las preguntas guía del debate que da origen al trabajo que hoy ponemos a consideración del lector. El presente volumen es el resultado de un importante esfuerzo de cooperación investigativa entre la Fundación Friedrich Ebert (Bolivia), y el Departamento de Desarrollo Internacional de la London School of Economics and Political Science. En el marco de esta cooperación interinstitucional, varios investigadores bolivianos y un académico extranjero se reunieron en La Paz, en septiembre de 2011, para discutir desde una perspectiva de largo plazo el desarrollo de los procesos de descentralización y democratización en Bolivia.

El presente libro está dividido en tres partes. En la primera presentamos tres estudios que, desde una perspectiva histórica, analizan por un lado las tensiones que atraviesa la descentralización en Bolivia, enfocando la dis-yuntiva histórica entre centralismo y descentralización, tanto en la forma que ésta adoptó en la construcción del discurso departamental/regional, así como la forma que adoptó respecto a las relaciones interétnicas y las relaciones entre lo urbano y lo rural; por otro lado, analizan la lógica y el desenvolvimiento del sistema de partidos boliviano contemporáneo en el contexto de dicha tensión entre centralismo y descentralización.
Read more

Decentralization and Governance (A Special Issue of World Development, 2013)

The most important theoretical argument concerning decentralization is that it can make government more accountable and responsive to the governed. Improving governance is also a central justification of real-world reformers. But the literature has mostly focused on policy-relevant outcomes, such as education and health services, public investment, and fiscal deficits.

The papers in this collection examine how decentralization affects governance, in particular how it might increase political competition, improve public accountability, reduce political instability, and impose incentive-compatible limits on government power, but also threaten fiscal sustainability. Such improvements in governance can help spur the broad historical transitions that define development.

These papers come out of an unusual workshop held at Columbia University in June, 2009, sponsored by the Initiative for Policy Dialogue's Decentralization Task Force. Seeking to re-unite academics studying decentralization with the policymakers who implement it, the two-day event brought together researchers working at the empirical and theoretical frontiers of decentralization and local government with policy practitioners who have implemented or supported reform at the highest levels of government and international organizations. The purpose of the workshop was not only to exchange ideas, but to marry policymakers' detailed knowledge and insights about real reform processes with academics' conceptual clarity and analytical rigor. The workshop was explicitly structured to facilitate this integration; this collection is the result.

Read more
About Governance from Below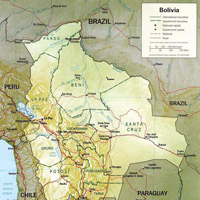 This website supports Decentralization and Popular Democracy: Governance from Below in Bolivia, and related research projects of my own and my colleagues. It includes additional material from the book project, such as a bonus web chapter on seven further case studies, graphs, charts, PPT presentations, and video and audio from lectures. It also provides detailed research materials that may be of use to readers, such as databases, questionnaires, video, and images. This research has won a number of awards. New material on the book, and from new research projects, will be added gradually as it becomes available.
JEAN-PAUL FAGUET is the Reader in the Political Economy of Development at the Department of International Development, London School of Economics, where he is programme director of the MSc in Development Management. Read more
---
This website and much of the research on it are supported by the generosity of Niko Vardapetyan . The Niko Vardapetyan Research Award supports studies of the evolution and reform of economic and political systems. Niko Vardapetyan, the CFO of Geotransgaz Group, studied Global Market Economics at the LSE. He is a firm believer that the challenges of global instability call for imaginative thinking about our economies and institutions through research unconstrained by traditional paradigms.
<![endif]-->