Research Interests
I specialise in social identity dynamics. My research covers the effect of mergers on group identities, how social identity can affect well-being under different circumstances and on the impact of multiple social identities on wellbeing and performance. Most recently, I also investigate social identity dynamics in leadership and the ethics of online research.
Representative Publications
2018. 'Identity Mediators: Leadership and Identity construction in campaign speeches of American presidential candidates' spouses [Abstract]
(with Tim Kurz & Kristen Hendricks)
Political Psychology.


Abstract
We explore the nature and evolution of the role of candidates' spouses in U.S. presidential election campaigns through a lens of social psychological theorizing that sees leadership as emerging from activities of identity construction of leaders and followers. Our discursive analysis examines how aspiring First Lady speeches at party national conventions construct both their husbands and the particular national identity construction most presently politically relevant in a way that strategically aligns the two. Building on previous social identity work on leadership, we show how it is not only the leader or their followers who are active participants in leadership construction but that there may also be a role for "third parties" who link prospective leaders with followers. We propose that, as "entrepreneurs" of identity, leaders may use others as "identity mediators" to co-construct and mediate both the leader's identity and the identity of those they seek to lead.

2016. 'Are all 'research fields' equal? Rethinking practice for the use of data from crowdsourcing market places. [Abstract]
Behavior Research Methods.


Abstract
New technologies like large-scale social media sites (e.g., Facebook and Twitter) and crowdsourcing services (e.g., Amazon Mechanical Turk, Crowdflower, Clickworker) are impacting social science research and providing many new and interesting avenues for research. The use of these new technologies for research has not been without challenges, and a recently published psychological study on Facebook has led to a widespread discussion of the ethics of conducting large-scale experiments online. Surprisingly little has been said about the ethics of conducting research using commercial crowdsourcing marketplaces. In this article, I focus on the question of which ethical questions are raised by data collection with crowdsourcing tools. I briefly draw on the implications of Internet research more generally, and then focus on the specific challenges that research with crowdsourcing tools faces. I identify fair pay and the related issue of respect for autonomy, as well as problems with the power dynamic between researcher and participant, which has implications for withdrawal without prejudice, as the major ethical challenges of crowdsourced data. Furthermore, I wish to draw attention to how we can develop a "best practice" for researchers using crowdsourcing tools.
2016. 'Do We Want a Fighter? The Influence of Group Status and the Stability of Intergroup Relations on Leader Prototypicality and Endorsement. [Abstract]
(with S. Alexander Haslam)
Leadership Quarterly.


Abstract
Based on the idea that leadership is a group process, we propose that followers' endorsement of a leader depends on particular leadership strategies being perceived to be best suited for maintaining or advancing group identity in the context of prevailing intergroup relations. Three experimental studies with different samples (students in a political context, retail workers in a business context) aimed to examine how socio-structural variables that define intergroup relations impact on leader–follower relations and, more specifically, on the support that followers give to leaders who adopt different approaches to the management of intergroup relations. Across all studies we demonstrate that after manipulating status and the stability of intergroup relations followers endorse leaders who strategically engage in group-oriented behaviour that maps onto optimal identity-management strategies. Furthermore, these patterns also mirrored differences across contexts in the perceived prototypicality. We conclude that intergroup relations influence leaders' strategic behaviour and followers' reaction to them. Findings highlight the importance of understanding leadership as both a within- and between-group process.

2014. Turning virtual public spaces into laboratories: Thoughts on conducting online field studies using social network sites [Abstract]
Analysis of Social Issues and Public Policy.


Abstract
This article deals with the topic of ethics in large-scale online studies on social network sides. "Big data" and large-scale online field studies are a relatively new phenomenon and clear ethical guidelines for social science research are still lacking. In this article, I focus on the ethical question of getting informed consent when we collect data from social network sites (SNS). I argue that data from SNS are not per se public and research based on these data should not be exempt from the ethical standard that informed consent must be obtained from participants. Based on the concept of privacy in context (Nissenbaum, 2010), I further propose that this is because the norms of distribution and appropriateness are violated when researchers manipulate online contexts and collect data without consent. Finally, I make suggestions for existing and possible future practices for large-scale online studies.

2008. Predictors of change in postmerger identification during a merger process: A longitudinal study. [Abstract]
(with Amelie Mummendey & Peter Noack)
Journal of Personality and Social Psychology.


Abstract
Adopting an intergroup perspective, the authors examined predictors of change in postmerger identification throughout a merger. Data were collected over 3 points of measurement from 157 students of a newly merged university. The 1st questionnaire was distributed 4 months after the implementation of the merger; the following 2 were distributed 6 months and 1 year thereafter. With its longitudinal design, this study replicates and extends past results by revealing predictors of change in organizational identification for members of the dominant and subordinate organizations throughout a merger process. As predicted, postmerger identification increased only slowly for members of both the dominant and the subordinate organizations. Multilevel models for change confirmed that the predictive effect of premerger identification on postmerger identification for members of the dominant organization dissipates over time. The effect of in-group typicality unexpectedly varied as a function of organizational membership and was stable over time. Perceived fairness in the merger process positively influenced postmerger identification across members of both organizations; over time the effect of fairness amplified.

Funded Projects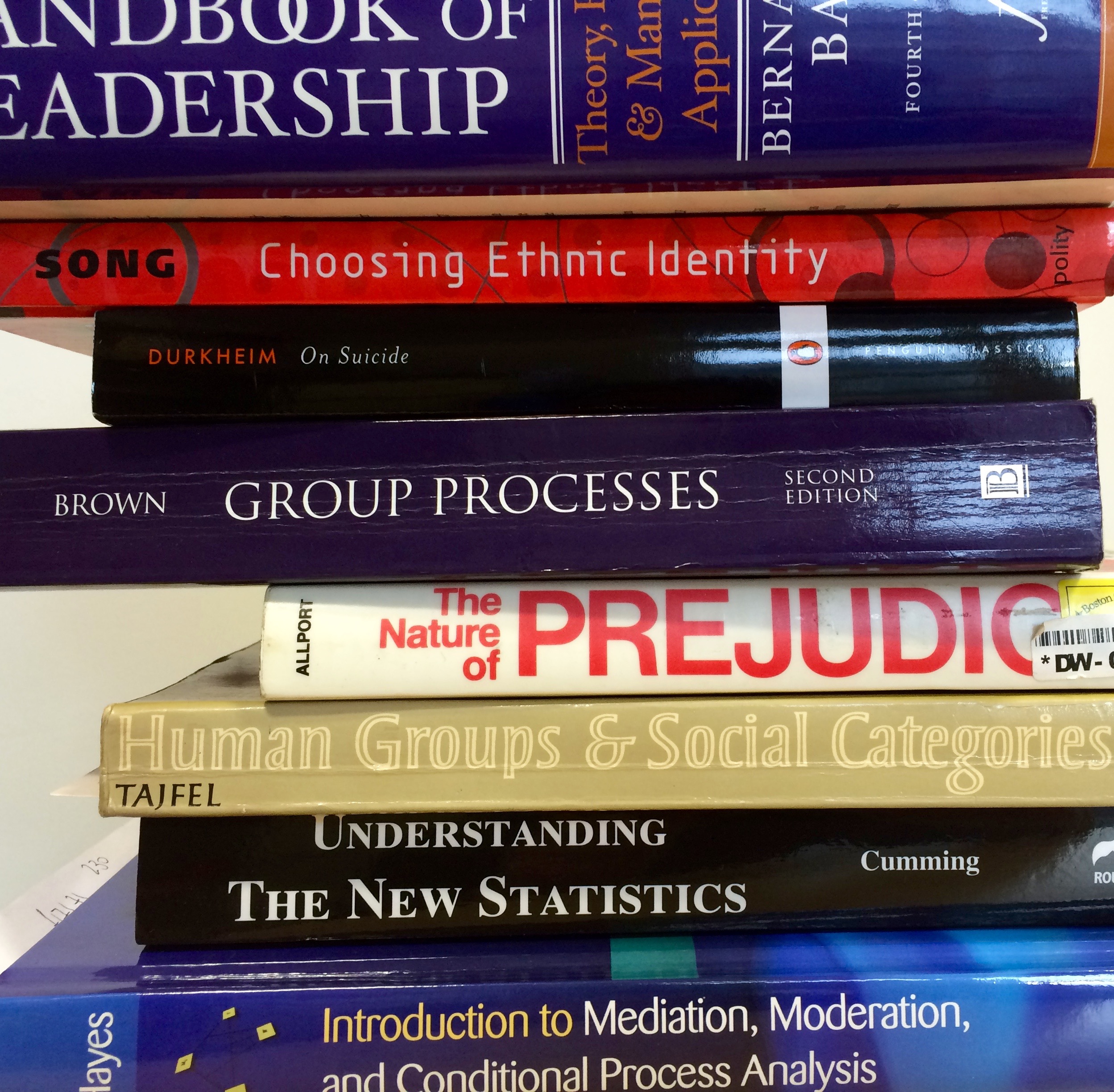 Welcome
I am currently Assistant Professor at the London School of Economics in the Department of Psychological and Behavioural Science. Previously, I was a Lecturer at the University of Surrey and a Post-doc at the University of Exeter in the Department of Psychology. I received my PhD in Social Psychology from the Friedrich-Schiller-University Jena (Germany) and a MSc (Dipl.-Psych.) from Free University Berlin.

News