Prof. Tim Forsyth
BA (Oxon), PhD (London)
Department of International Development
London School of Economics and Political Science
Houghton Street
London WC2A 2AE, UK.

tel: +44 (0)20 7955 6836
fax: +44 (0)20 7955 6844
e-mail: t.j.forsyth@lse.ac.uk

Research specialization
I am a specialist in political approaches to environmental change and international development.
I have worked on two key themes:
- The politics of environmental science and policy processes, especially in rapidly developing societies,
- The development of deliberative, multi-stakeholder forms of governance that can result in more development-friendly, as well as environmentally effective, policy solutions.
I have worked on climate change policy (especially technology transfer); poverty and environment (especially community forestry and urban/ rural livelihoods); and on policy processes within developing countries (public-private partnerships and civil society). In academic terms, my work is located in political ecology; science and technology studies; and environmental governance.
I have some six years' work experience in Southeast and South Asia.
Winner of the 2012-13 Lee Kong Chian Distinguished Fellowship on Contemporary Southeast Asia, at Stanford University and the National University of Singapore.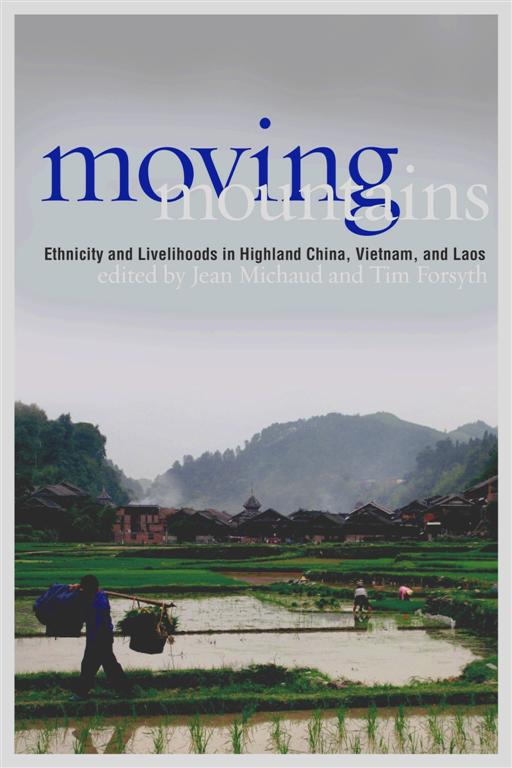 Publications

Books
2011: (edited) Moving Mountains: Ethnicity and Livelihoods in Highland China, Vietnam, and Laos, with co-editor Jean Michaud, Vancouver: University of British Columbia Press. This book analyzes how ethnic identity can be an important asset for livelihood strategies in the highlands connecting China, Vietnam and Laos under the combined forces of globalization, post-socialism, and statemaking. The book presents important and new studies of this little-researched region.

2008: Forest Guardians, Forest Destroyers: The Politics of Environmental Knowledge in Northern Thailand, with co-author Andrew Walker, Seattle and London: University of Washington Press, 302pp. A research monograph analyzing why usual practices of scientific progress have not occurred in a region that has become one of the most researched in Asia. This book links scientific knowledge about forests and watersheds to alliances of state and NGOs in Thailand.

2005 / 2011 (re-issued): (edited) Encyclopedia of International Development. London and New York: Routledge, 826pp.

The most comprehensive reference work on Development Studies to date, including entries by more than 200 authors in half a million words.

2003: Critical Political Ecology: The Politics of Environmental Science, London and New York: Routledge, 320pp.

Environmental science should not be seen as a neutral backcloth for political analysis of environmental problems, but should be exposed to political analysis as well. This book argues for ways of politicizing scientific techniques without reverting to simple relativism.

1999: International Investment and Climate Change: Energy Technologies for Developing Countries, London: Earthscan and the Royal Institute of International Affairs (Chatham House), 266pp.

How can international investment transfer renewable energy technologies to rapidly developing countries? A comparative study of Indonesia, the Philippines, Thailand, and Vietnam, and the links of global environmental policy with national electricity privatization.

1998: (edited) Positive Measures for Technology Transfer under the Climate Change Convention, London: Royal Institute of International Affairs (Chatham House), 195pp.

Investors and policymakers discuss ways to redefine and enhance technology transfer - the 'missing item' under climate change negotiations.

1996: Sustainable Tourism: Moving from Theory to Practice, London: World Wide Fund for Nature, 65pp. A survey of 69 companies and agencies engaged in sending tourists overseas. What can they do to enhance sustainable tourism? What does this mean for business regulation?

Articles in refereed journals

(in press): 'Towards an ontological politics of comparative environmental analysis: The Green Economy and local diversity,' Global Environmental Politics (with Les Levidow).

2015: 'Who speaks for the future of the Earth? How critical social science can extend the conversation on the Anthropocene,' Global Environmental Change 32: 211-218. (with Eva Lovbrand, Silke Beck, Jason Chilvers, Johan Hedren, Mike Hulme, Rolf Lidskog, and Eleftheria Vasileiadou).

2015: 'Ecological functions and functionings: towards a Senian approach to ecosystem services,' Development and Change 46:2 225-246.

2014: 'Deliberative democracy and climate change,' Public Administration 92:4 1115-1123.

2014: 'Hidden alliances: rethinking environmentality and the politics of knowledge in Thailand's campaign for community forestry,' Conservation and Society 12: 4 4087-417. (with Andrew Walker).

2014: 'Elinor Ostrom's legacy: governing the commons, and the rational choice controversy,' Development and Change 45:3 (with Craig Johnson).

2014: 'Public concerns about transboundary haze: a comparison of Indonesia, Singapore and Malaysia,' Global Environmental Change 26: 76-86.

2014: 'Climate justice is not just ice,' Geoforum 54: 230-232.

2013: 'Community-based adaptation to climate change: a review of past and future challenges,' Wiley Interdisciplinary Reviews: Climate Change 4: 439-446.

2013: 'What is autonomous adaptation? Resource scarcity and smallholder agency in Thailand,' World Development 43: 56-66 (with Natalie Evans).

2013: 'Forests, development, and the globalisation of justice,' The Geographical Journal 179: 2 114-121 (with Thomas Sikor).

2012: 'Politicizing environmental science does not mean denying climate science nor endorsing it without question,' Global Environmental Politics 12: 2 18–23.

2011: 'Expertise needs transparency not blind trust: A deliberative approach to integrating science and social participation,' Critical Policy Studies 5:3 318-323.

2010: 'Thailand's Red Shirt Protests: Popular Movement or Dangerous Street Theatre?' Social Movement Studies 9:4 461-467.

2010: 'Panacea or Paradox? Cross-sector partnerships, climate change and development,' Wiley Interdisciplinary Reviews: Climate Change 1: 5 683-696.

2009: 'Progress on Community-Based Adaptation' AdaptNet Special Report (09-06-S-Ad) 8 September 2009 (with Jessica Ayers and Saleemul Huq).

2009: 'Community Based Adaptation to Climate Change: Strengthening Resilience through Development' Environment 51: 4 22-31 (with Jessica Ayers).

2009: Commentary on alliances between state science, and indigenous forestry in Mexico, Current Anthropology 50:1 91-92 (invited commentary on submitted paper).

2008: 'Political ecology and the epistemology of social justice,' Geoforum 39: 2 756-64 (Special issue dedicated to the work of Piers Blaikie).

2007: 'Are environmental social movements socially exclusive? An historical study from Thailand,' World Development 35: 12 211-30.

2007: 'Promoting the "development dividend" of climate technology transfer: can cross-sector partnerships help?' World Development 35: 10 1684-98.

2007: 'Sustainable livelihood approaches and soil erosion risks: who is to judge?' International Journal of Social Economics 34: 1/2 88-102.

2006: 'Cooperative environmental governance and waste-to-energy technologies in Asia,' International Journal of Technology Management and Sustainable Development 5: 3 209-220.

2005: 'Building deliberative public-private partnerships for waste management in Asia,' Geoforum 36:4 429-439.

2005: 'Enhancing climate technology transfer through greater public-private cooperation: lessons from Thailand and the Philippines,' Natural Resource Forum 29: 165-176.

2002: 'Environmental social movements in Thailand: a critical assessment,' Asian Review 15:106-127.

2002: 'In the eyes of the state: negotiating a "rights-based approach" to forest conservation in Thailand,' World Development 30:9 1591-1605 (with Craig Johnson).

2002: 'What happened on The Beach? Social movements and governance of tourism in Thailand,' International Journal of Sustainable Development 5:3 326-337.

2001: 'Constructing a new understanding of environment under post socialism,' Environment and Planning A 33: 573-587 (with Tassilo Herrschel).

2001: 'Environmental social movements in Thailand: how important is class?' Asian Journal of Social Sciences 29: 1 35-51.

1999: 'Environmental activism and the construction of risk: implications for NGO alliances,' Journal of International Development 11:5 687-700.

1999: 'Flexible mechanisms of climate technology transfer,' Journal of Environment and Development 8:3 238-257.

1999: 'Fighting back: human adaptations in marginal environments,' Environment 41:6 6-11, 25-29 (with Simon Batterbury).

1998: 'Technology transfer and the climate change debate,' Environment 40:9 16-20, 39-43.

1998: Commentary on the development of indigenous knowledge, Current Anthropology 39:2 140-141 (invited commentary on submitted paper).

1998: 'Mountain myths revisited: integrating natural and social environmental science,' Mountain Research and Development 18:2 126-139.

1997: 'Environmental responsibility and business regulation: the case of sustainable tourism,' Geographical Journal 163:3 270-280.

1997: 'Environmental transformations in developing countries: hybrid research and democratic policy,' Geographical Journal 163:2 126-132 (with Simon Batterbury and Koy Thomson).

1996: 'Science, myth and knowledge: testing Himalayan environmental degradation in Thailand,' Geoforum 27:3 375-392.

1995: 'Business attitudes to sustainable tourism: self-regulation in the UK outgoing tourism industry,' Journal of Sustainable Tourism 3:4 210-231.

1995: 'Tourism and agricultural development in Thailand,' Annals of Tourism Research 22:4 877-900.

1995: 'The mu'ang and the mountain: perceptions of environmental degradation in upland Thailand,' South East Asia Research 3:2 169-192.

1994: 'The use of cesium-137 measurements of soil erosion and farmers' perceptions to indicate land degradation amongst shifting cultivators in northern Thailand,' Mountain Research and Development 14:3 229-244.

1991: 'Tourism: problem or solution to the Himalayan crisis?' Global Ecology and Biogeography Letters

1: 65-68.

Chapters in edited books

(in press) 'How do shifting cultivators respond to resource scarcity? The Karen in Thailand,' in Cairns, M. (ed) Shifting cultivation and environmental change: Indigenous people, agriculture and forest conservation, London: Routledge (with Natalie Evans).

(in press) 'Environmentalism,' in Hirsch, P. (ed) Handbook of environmental politics in Southeast Asia, London: Routledge.

(in press) 'Integrating politics and science in political ecology,' in Bryant, R. (ed) International handbook of political ecology, London: Elgar.

(in press) 'Population and natural resources,' in Richardson, D. et al (eds) The international encyclopedia of geography: people, the Earth, environment, and technology, Aldershot and New York: Wiley and AAG.

(in press) 'Environmental science and society,' in Richardson, D. et al (eds) The international encyclopedia of geography: people, the Earth, environment, and technology, Aldershot and New York: Wiley and AAG.

2015: 'Co-production and democratizing global environmental expertise: the IPCC and adaptation to climate change,' pp. 113-132 in Hagendijk, R., Hilgartner, S. and and Miller, C. (eds) Science and Democracy: Making knowledge and making power in the biosciences and beyond, London: Routledge (with Silke Beck).

2014: 'Science,' in Morin, J-F. and Amandine, O. (eds) Essential concepts of global environmental governance, London: Routledge.

2014: 'How is community based adaptation scaled up in environmental risk assessment? Lessons from ecosystem-based adaptation,' pp. 88-102 in Schipper, L., Ayers, J., Reid, H., Huq, S. and Rahman, A. (eds) Community based adaptation to climate change: scaling it up, London: Routledge.

2014: 'Science,' pp. 218-228 in Death, C. (ed) Handbook on Critical Environmental Politics, London: Routledge.

2012: 'How can community partnerships reduce costs of technology transfer?' pp. 340-353 in Mallett, A. and Ockwell, D. (eds) Low carbon technology transfer, London: Earthscan.

2012: 'The politics of environmental science: Recent trends and important questions,' pp. 1-15 in Bandyopadhyay, J., K. Chopra, and N. Ghosh (eds) Environmental Governance: Approaches, Imperatives, and Methods (Bloomsbury, New Delhi and INSEE: Indian Society for Ecological Economics).

2011: 'Livelihoods and ethnicity in highland China, Laos and Vietnam,' (with Jean Michaud) pp. 1-27 in Michaud, J. and Forsyth, T. (eds) Moving Mountains: Ethnicity and Livelihoods in Highland China, Vietnam, and Laos Vancouver: UBC Press.

2011: 'Politicizing environmental explanations: what can political ecology learn from sociology and philosophy of science?,' pp. 31-46 in Goldman, M. Nadasdy, P. and Turner, M. (eds) Knowing Nature: Conversations at the Intersection of Political Ecology and Science Studies, Chicago: University of Chicago Press.

2009: 'How to participate, integrate and coordinate? REDD and multi-level, multi-actor governance,' pp. 113-122 in Angelsen, A. and Brockhaus, M. (eds) Realising REDD+: National strategy and policy options, Bogor: Centre for International Forestry Research (CIFOR).

2009: 'The persistence of resistance: Analyzing local responses to agrarian change in Asia,' pp. 267-276 in Caouette, D. and Turner, S. (eds) Agrarian Angst and Rural Resistance in Contemporary Southeast Asia, London: Routledge.

2009: 'Democratizing international environmental expertise about forests and climate,' pp. 170-185 in G. Kutting and R. Lipschutz (eds) Environmental Governance: Power and knowledge in a local-global world, London: Routledge.

2008: 'The Brown environmental agenda,' in Desai, V. and Potter, R. (eds) The Companion to Development Studies, 2nd edition, London: Arnold.

2008: 'Investing in waste-to-energy projects: Success factors for public-private collaboration in Asia,' pp. 117-130 in Tang, K. and J. Yeoh (eds) Wastenomics: Turning Waste Liabilities into Assets, Enfield: Middlesex University Press.

2008: 'The contentious world of Jared Diamond's Collapse,' pp. 27-38 in Boykoff, M., Everard, K. and Goodman, M. (eds) Contentious Geographies, Aldershot: Ashgate.

2007: 'Rethinking watershed science: Lessons from Thailand,' pp. 208-225 in Cornell, J. and Waddell, E. (eds)

Environment, Development and Change in Rural Asia-Pacific: Between Local and Global, London: Routledge.

2005: 'The political ecology of the ecosystem approach for forests,' pp. 165-176 in Sayer, J. and Maginnis, S. (eds) Forests in Landscapes: Ecosystem Approaches for Sustainability, London: Earthscan.

2005: 'Anil Agarwal,' pp. 9-14 in Simon, D. (ed) Fifty Key Thinkers on Development, London and New York: Routledge.

2005: 'Land-use impacts on water resources: science, social and political factors,' in Anderson, M. et al (eds) Encyclopedia of Hydrological Sciences, Chichester: Wiley. (10,000 words).

2004: 'Social movements and environmental democratization in Thailand,' pp. 195-216 in Jasanoff, S. and Long, M. (eds) Earthly Politics: local and global in environmental governance, Cambridge, MA: MIT Press.

2004: 'Industrial pollution and social movements in Thailand,' pp. 422-438 in Peet, R. and Watts, M. (eds) Liberation Ecologies: environment, development and social movements (Second Edition), London and New York: Routledge.

2003: 'Climate change investment and technology transfer in Southeast Asia,' pp. 237-257 in Harris, P. (ed) Climate Change and East Asia: The politics of global warming in China and East Asia, London and new York: Routledge.

2002: 'The brown environmental agenda,' pp. 294-297 in Desai, V. and Potter, R. (eds) The Arnold Companion to Development Studies, London: Arnold.

2001: 'Poverty and environment: priorities for research and policy,' pp. 11-56 in Agersnap, H. and Funder, M. (eds), Conservation and development: new insights and lessons learnt. Copenhagen: Environment and Development Network (with M. Leach and I. Scoones).

2001: 'Poverty and environment: what are the issues?' in Consumers International (CI): Poverty and Environment: priorities for the future, Penang, Malaysia: Consumers International, Regional Office for Asia and the Pacific.

2001: 'Political ecology and critical realism,' pp. 146-154 in Stainer, A. and Lopez, G. (eds) After postmodernism: critical realism?, London: Athlone Press.

2001: 'Deforestation in Thailand: the battle in politics and science,' pp. 139-154 in Vajpeyi, D. (ed) Deforestation environment, and sustainable development: a comparative analysis, Westport, CT, and London: Praeger.

1999: 'Joint Implementation, technology transfer, and the Clean Development Mechanism,' various contributions in Grubb, M. and Brack, D. (eds) (with Forsyth, T. and Missfeldt, F.) The Kyoto Protocol: a guide and assessment, London: Earthscan.

1998: 'Foreign investment and technology for climate-change mitigation: a background,' pp. 1-12 in Forsyth, T. (ed) Positive measures for technology transfer under the Climate Change Convention, London: RIIA.

1998: 'Rapporteur's account of workshop proceedings and debates,' (with Dean Anderson) pp. 13-34 in Forsyth, T. (ed) Positive measures for technology transfer under the Climate Change Convention, London: RIIA.

1998: 'The politics of environmental health: suspected industrial poisoning in Thailand,' pp. 210-226 in Hirsch, P. and Warren, C. (eds) The politics of environment in Southeast Asia: resources and resistance, London: Routledge.

1997: 'Industrial pollution and government policy in Thailand: rhetoric versus reality,' pp. 182-201 in Hirsch, P. (ed) Environment and environmentalism in Thailand, Bangkok: Silkworm Publications.

1997: 'Sustainable tourism and market interest' pp. 251-270 in Hein, W. (ed) Tourism and sustainable development, Hamburg: Deutsches Ubersee-Institut.

1997: 'Industrialization in Vietnam: social change and environment in transitional developing countries,' pp. 247-269 in Auty, R.M. and Brown, K. (eds) Approaches to sustainable development, London: Cassell.

1995: 'Non-regulated tourism as a form of environmental management in northern Thailand: the case of Pha Dua, Chiang Rai,' pp. 155-177 in Rigg, J. (ed) Counting the costs: economic growth and environmental change in Thailand, Singapore: Institute of Southeast Asian Studies (ISEAS).

Other selected publications

2011:

'B

eyond The Sea Wall: Social Vulnerability In Climate Change Adaptation,' Resources for the Future: Weathervane, May 25 2011.

2002: 'Obituary of Leh Tsan Kway' [Mien high priest, Thailand] Journal of the Siam Society (Bangkok) 89: 1-2 x-xv.

1994: 'Shut up or shut down: how a Thai health agency was forced to close when it challenged a major foreign investor,' Asia, Inc. 3:4, April 1994, pp. 30-37.

1993: 'Travellers' Tales' (re economic growth and tourism in Thailand), Far Eastern Economic Review 156:18, pp. 30.

1992: 'Sneaking a look at the Long Neck Women,' (re tourism and ethnic minorities), The Independent, 28 March 1992, pp. 50.

1990: 'Anger in the land of smiles' (re tourism in Thailand) The Independent, 23 June 1990, pp. 44.

1990: 'The Indonesian Transmigration scheme,' Geography Review 4:2 23-26.

1987: 'Plants for the people: an expedition to Sumatra,' Geographical Magazine 59:6 305-307.

Commissioned reports and consultancies

2014- : Board member of Down To Earth: a think tank and advocacy organisation about environmental policy and development in Indonesia.

2010: 'Influencing Indonesia's Climate Change Policy after Copenhagen,' for Foreign and Commonwealth Office of the British Government, Indonesia.

2009: Chapter on multi-level, multi-actor governance for climate change and forest policies in developing countries, for Centre for International Forestry Research (CIFOR).

2005: 'Climate change,' Chapter 13 of the Millennium Ecosystem Assessment, with co-authors: Noble, I., Parikh, J., Watson, R., Howarth, R., Klein, R., Abdelkader, A. An international assessment overseen by various international organizations.

2005: 'Partnerships for technology transfer: How can investors and communities build renewable energy in Asia?' Briefing paper for the Sustainable Development Program, Royal Institute of International Affairs (Chatham House), London.

2002: 'Driving forces for the adoption of Environmentally Sound Technology,' United Nations Industrial Development Organization (UNIDO), Vienna.

2002: 'Realising rights? Negotiating access to Thailand's forests,' with co-author Craig Johnson, Department for International Development (DFID), London.

2000-2008: Trustee for The Karen Hilltribes Trust, a UK-based charity working to enhance clean water, education and livelihoods in northern Thailand.

1998: 'Poverty and environment, an overview study,' with co-authors Melissa Leach and Ian Scoones. Conducted by the Institute of Development Studies, Sussex for the United Nations Development Programme (UNDP) and European Commission.

Editing of journals

2014-present: Advisory panel of Critical Policy Studies

2011-present: Advisory panel of Global Environmental Politics

2009-present: Associate editor of Conservation and Society

2008-present: Advisory panel of Social Movement Studies

2000-present: Co-editor and book reviews editor of Progress in Development Studies (2000-2011), Advisory panel (2011-present)

1998: Guest editor of Mountain Research and Development 18:2.

1997: Guest editor of the Geographical Journal 163:2 (with Simon Batterbury).

Previous workplaces

2000-present: London School of Economics and Political Science.

1999-2000: Fellow, Kennedy School of Government, Harvard University (Global Environmental Assessment Program).

1998-1999: Fellow, Institute of Development Studies, Sussex, UK.

1997-1998: Fellow, Energy and Environmental Programme, Royal Institute of International Affairs (Chatham House), London.

1995-1997: London School of Economics and Political Science; King's College London.

1993-1994: Journalist, Asia, Inc magazine (Hong Kong and Thailand); Associated Press (Thailand).

Languages

Thai: good fluency (written and spoken)

French and Spanish: reasonable fluency (written and spoken)

Indonesian and Burmese: basic conversational skills